Uncovering Early Caddo History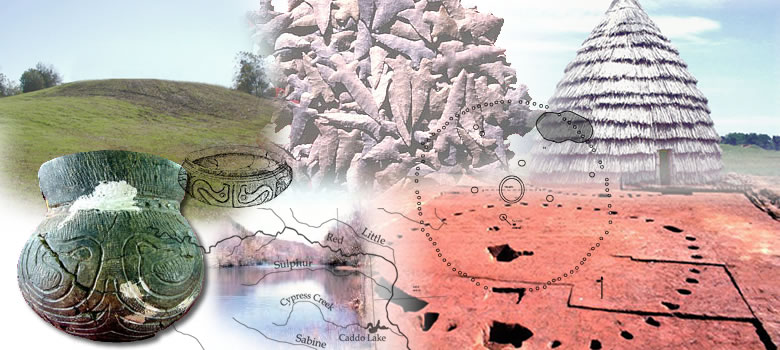 This exhibit traces the early history of the ancestors of the Caddo people from dim patterns thousands of years old through the Caddo era of greatness from about A.D. 800 to the late 1700s. Most of the evidence comes from the ground, uncovered by archeologists in many places across the Caddo Homeland. Here we try to summarize what has been learned and attempt to answer some very difficult historical questions:
When did the Caddo and their immediate ancestors first occupy their traditional homeland?
When, where, and how did distinctly Caddo culture originate?
What was life like for Caddo ancestors, especially during the long era of Caddo greatness?
How and why did Caddo societies change through time?
These questions are difficult to answer because they are so BIG and because we are asking about things that happened long before written history. Nonetheless, in this exhibit we do our best to answer these questions, summarize the evidence upon which most of our inferences are based, and point out what more we need to know.
Most of the sections making up this large exhibit follow history from earliest times to latest. While each section is meant to stand on its own, the overall story is an historical narrative that can be understood best by following the sections in chronological order. To make this easy, simply click on the "Follow Caddo History" button at the bottom of each section. Parts of the story discuss matters in more detail than readers may have time or interest in. Thus, we use Sidebar pages in the Caddo Ancestors exhibit that you can bypass or follow to learn more. The Sidebar pages are mostly text.
Here is a brief description of each of the main sections in the suggested reading order: