1845-1855
1845


Texas is annexed to United States; the State of Texas retains ownership of all of its public lands.
U.S. Army assumes responsibility for defense of Texas frontiers and relations with Indians.

1846
U.S. declares war on Mexico
Army establishes Fort Brown near mouth of Rio Grande.
John O. Meusebach, acting on behalf of German settlers, signs treaty with the Comanches' head chiefs Buffalo Hump, Santa Anna, and others. Treaty allows settlers to travel into Indian territory and the region of the Fisher-Miller Land Grant and for the Indians to go to the white settlements. More than 3 million acres of land opens up to settlement.

1848


Treaty of Guadalupe-Hidalgo ends U.S. war with Mexico; U.S. agrees to prevent Comanche, Kiowa raids into Mexico.
Army establishes Fort Martin Scott at Fredericksburg, Ringgold Barracks on Rio Grande and camps at Austin, San Antonio, and on the Colorado and Bosque Rivers.
1849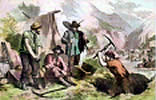 Thousands of Americans head west for California gold fields. U.S. Army lieutenants W.H.C. Whiting and William F. Smith map roads from San Antonio to El Paso.
Army establishes prairie-plains forts Worth, Graham, and Gates; hill country forts Croghan, Lincoln, and Inge; Rio Grande forts McIntosh and Duncan; trans-Pecos Fort Bliss.
Cholera epidemic devastates southern Comanche band.
1850
Texas settles boundary dispute with U.S.; current state borders are established.

Fort Merrill is established on Nueces River.
U.S. Army's 2nd Dragoons under Capt. Wm. J. Hardee join with Texas Rangers under John S. "Rip" Ford and "Bigfoot" Wallace in campaign against Indians between Nueces River and Rio Grande.
1851
Texas frontiersman Henry Skillman begins mail and passenger service by mule-drawn coach on "lower road" between San Antonio and El Paso.
Army begins abandonment of first prairie-plains and hill country forts; new forts Belknap, Phantom Hill, Mason are established.
1852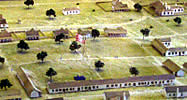 Army continues abandonment of early forts, establishes new Forts McKavett, Chadbourne, Terrett, Ewell, Clark.
1854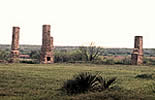 Texas Legislature authorizes federal authorities to establish Indian reservations on state lands.
Fort Davis established in Davis Mountains near San Antonio-El Paso road; second generation forts Phantom Hill, Terrett, Ewell abandoned.
1855
Indian reservations open on Brazos River near Fort Belknap for small non-Comanche bands, including Tonkawas; on Clear Fork of Brazos for southern Comanches
Fort Lancaster established near Pecos River on San Antonio-El Paso Road.