Mapping the Past in the El Paso Valley!
Missions, Settlements, and a Mighty Mixed-Up River
Hi, Kids!
I'm Dr. Dirt, the Armadillo Archeologist. Today we are going to examine a cool old map to see what the El Paso valley in far west Texas looked like about 250 years ago! At that time, it was part of the province of New Mexico in New Spain. The map looks like Tiny Town, with missions, presidios, and haciendas where many people lived. There were Spanish soldiers, settlers, missionaries, and Indians, including the Tigua, Suma, Manso, and Piro. All these missions and settlements were along the fertile banks of the river where the people grew crops—corn, wheat, beans, squash, and even grapes! They watered their crops with water from the river, known then as the Rio del Norte. Today, we call it the Rio Grande, which means Big River. Now, back in the old days, that big river had a problem deciding where it was going to run.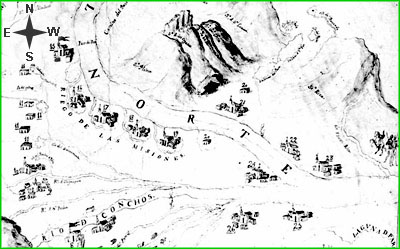 In 1746, when this map was made, most of the missions and towns, such as Ysleta and Socorro, were on the south bank of the river. But, I'll tell you what, partner, that river could flood! It would rage out of its banks, flood the fields, and knock down houses and missions, left and right! The priests and Indians had their hands full trying to rebuild after every flood. And by 1820 or so, that mighty river had begun to take a different course and changed channels. That put some of the El Paso missions and settlements on the NORTH bank of the river!
Confused?
Me, too, but here's the point. The river later became the border between Texas and Mexico. That meant that the settlements on the north side became part of Texas! Later on, El Paso del Norte became Juarez, Mexico, and the newer town of Franklin became El Paso, Texas. Ay, chihuahua. Now my head is really spinning!

Let's get back to the 1740s and check out that old map when things looked a lot simpler. First, you'll need to print the map, then get your crayons and pencils ready! Be sure to print the Coloring Clues to discover lots more! Then look at the two modern maps below to see how the area has changed. Instead of a Spanish presidio for soldiers, there is now a U.S. Army fort. Can you find it? Instead of the Camino Real, travelers now have dozens of roads and highways to follow. Do you notice other changes?
Map of El Paso area today
(courtesy TxDOT)

Map of Mission Communities today