New Teaching Resources Created
Whose Buffalo?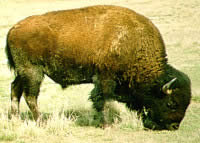 This two-part lesson deals with events on the Great Plains of Texas leading up to the Red River War of 1874. Students will examine how the Plains Indians vied with white commercial buffalo hunters for the millions of Great Plains buffalo, and will create an illustrated broadside supporting the interests of either the Indians or the commercial hunters.
View Whose Buffalo? lesson in html (webpage)
Download Whose Buffalo? lesson in pdf format (700k)
Teaching about Sawmills: The Story in Numbers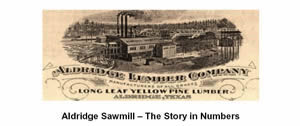 This lesson plan provides 7th-grade students an opportunity to practice math skills while becoming familiar with Texas' "Boom & Bust" economy and the natural history and geography of the east Texas Piney Woods. The student handout is illustrated with historic photos of logging in East Texas.
View Aldridge Sawmill lesson in html (webpage)
Download Aldridge Sawmill lesson in pdf format (451k)
Teaching about the French in Texas
This lesson for 4th grade students is correlated to the Texas Beyond History exhibits on Ft. St. Louis and The Belle as well as other websites. Through researching, journal writing, and answering a variety of questions, students will gain a broad understanding of early French exploration and settlement in Texas.
View French in Texas lesson in html (webpage)
Download French in Texas lesson in pdf (101k)
Teaching about the Rancheria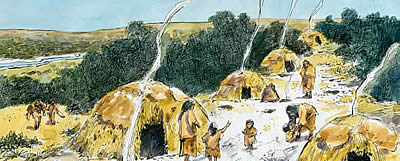 In this lesson, students can learn about the Indian groups who lived 1,000 years ago on the Llano River. The students will use paintings and photographs of tools and other artifacts to make inferences and conclusions about how the Indians lived.
View Rancheria lesson in html (webpage)
Download Rancheria lesson in pdf (920k)
Teaching Mission San Sabá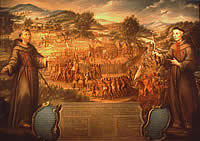 Digging Deeper: Mission San Sabá is a lesson is aimed at students who already have an understanding of the Spanish mission-presidio system in Texas. The purpose of this lesson is to have students understand Spanish motives for establishing Mission San Sabá and the reasons for the mission's failure.
View Mission San Sabá lesson in html (webpage)